Burlington Chert
---

© 2003 by the Center For Social Research, Parkland College
---
Use the "back" button on your browser screen to return to the previous page.
---


Note that there is a general overlap between Elwood-Joliet, Burlington, and Glacial Till chert in all five of the classificatory properties. Correct assignment of small items of debitage to these types must remain somewhat problematic.

TEXTURE:
The texture varies from medium to fine, but the fine material was most often selected for biface production.

LUSTER:
Luster tends to be waxy.

COLOR:
The base colors will commonly be white to gray to tan, although the Crescent Hills variety can be in a wide spectrum of colors. Occasionally one encounters banding and/or mottling.

FOSSILS:
A variety of fossils may be present including sponge spicules, brachiopods, bryozoans, corals, and crinoid columnals.

STRUCTURAL CHARACTERISTICS:
Structural features include some druse and small voids.

HEAT TREATMENT:
Burlington Chert was frequently heat treated. The base color changes to a pure white or a very light pink. Darker regions assume orange or red hues. Iron oxide deposits associated with fossil voids or fractures in the matrix will become decidedly orange to red. Luster will typically remain waxy although the light reflecting property may be enhanced (Higby 2003).

SOURCE:
The upper illustration is of specimens provided by Roger Kirkwood, then a student in Parkland's archaeology program. They were recovered from the Crescent Hills Locality, Crescent Hills, Missouri. The bottom illustration is of five preforms recovered from Goose Creek Township, Piatt County, Illinois. The preforms were likely a blade cache. They are curated in the type collection of Parkland College. The five items help illustrate the range of variation to be found in Burlington.


---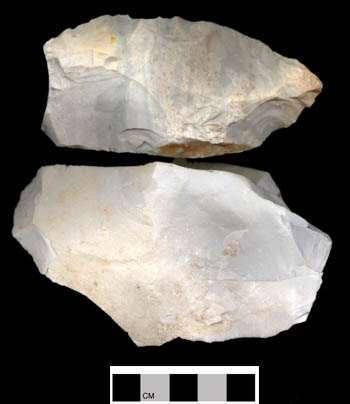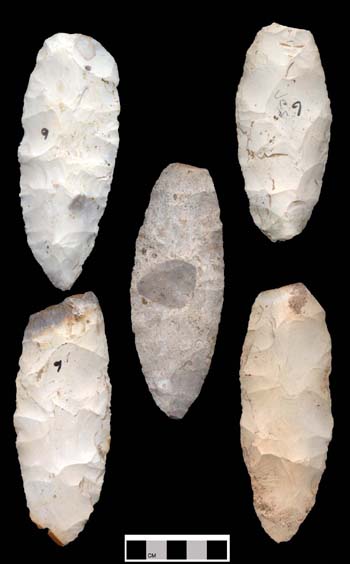 Click on images for full view.
---