Degonia Chert
---

© 2003 by the Center For Social Research, Parkland College
---
Use the "back" button on your browser screen to return to the previous page.
---


TEXTURE:
The texture is medium to fine grained.

LUSTER:
Luster tends to be dull to waxy.

COLOR:
Colors range from white to gray to blue. Values tend to be lighter. Fossiliferous voids and fracture planes frequently display coatings of white or orange.

FOSSILS:
Degonia is decidedly fossiliferous. Sponge spicules and crinoid columnals will be present. Negative cast fossils appearing as small voids are common.

STRUCTURAL CHARACTERISTICS:
Some voids will be filled with iron oxides and others with calcite crystals.

HEAT TREATMENT:
Degonia Chert is not typically heat treated.

SOURCE:
The illustrated specimens were recovered from a bed rock exposure on the southeast slopes of Julien Hill in sec. 18, T. 12 S., R. 7 E., Pope County, Illinois.


---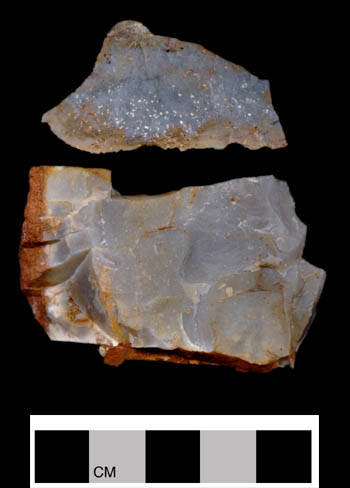 Click on image for full view.
---