Wyandotte Chert
---

© 2003 by the Center For Social Research, Parkland College
---
Use the "back" button on your browser screen to return to the previous page.
---


TEXTURE:
The texture is typically fine.

LUSTER:
Luster tends to be waxy to glassy.

COLOR:
The base colors will range from dark gray to blue-gray. Many specimens will display regions where there will be an abrupt transition to a grayish tan (observe base of illustrated biface). Circular banding, as in Cobden Chert, sometimes occurs.

FOSSILS:
A distinctive feature will be the presence of small iron oxide lined fossiliferous voids.

STRUCTURAL CHARACTERISTICS:
Some fossiliferous "voids" will be completely filled with a mineral of a contrasting color.

HEAT TREATMENT:
Wyandotte Chert is not typically heat treated (Tankersley 1984:255).

SOURCE:
We, unfortunately, have no hand specimen of this distinctive, high quality chert. The illustration is of a hafted biface in the Parkland College type collection. The chert is known to outcrop in Harrison County, Indiana. It is associated with "...the upper part of the Fredonia Member of the St. Genevieve Limestone (Bassett and Powell 1984:243)."


---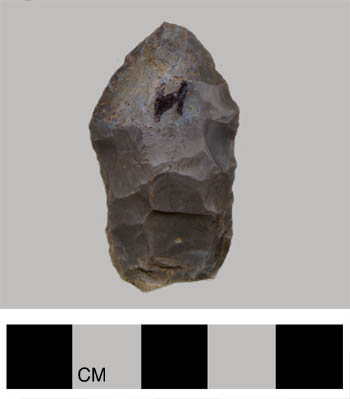 Click on image for full view.
---