Kaolin Chert
---

© 2003 by the Center For Social Research, Parkland College
---
Use the "back" button on your browser screen to return to the previous page.
---


TEXTURE:
The texture is typically medium.

LUSTER:
Luster tends to be dull.

COLOR:
Color ranges in hue from gray to red. Values tend to be lighter. Banding occurs. However, the definitive color property of Kaolin is its absence. Much of the matrix is translucent, that is, light will pass through it. It is not transparent, one cannot see through it, but light will pass through. This variable translucency is a quite distinctive property for Illinois cherts.

FOSSILS:
Fossils are typically not present.

STRUCTURAL CHARACTERISTICS:
There are no distinguishing strucutral attributes.

HEAT TREATMENT:
The effects of thermal alteration are unknown.

SOURCE:
The illustrated specimen was recovered from erosional features in the north half of Section 25, one mile west of the village of Cobden, Union County, Illinois.


---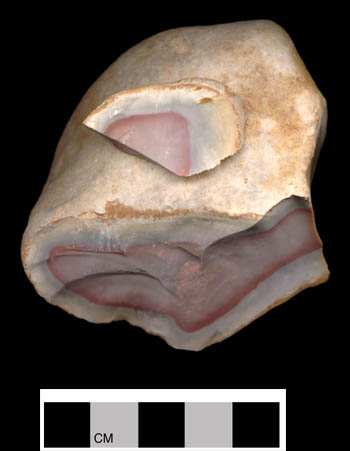 Click on image for full view.
---