Mill Creek Chert
---

© 2003 by the Center For Social Research, Parkland College
---
Use the "back" button on your browser screen to return to the previous page.
---


TEXTURE:
The unusually coarse texture of Mill Creek is typically definitive, although finer grained material does sometimes occur. We offer the following visual analogy: sprinkle cinnamon and sugar on top of buttered toast. While the sugar granules are somewhat larger, they provide a good approximation of the Mill Creek matrix under magnification.

LUSTER:
Luster tends to be dull.

COLOR:
Color will be a light brown to gray grading into hues of red.

FOSSILS:
Fossils are uncommon.

STRUCTURAL CHARACTERISTICS:
Druse is uncommon, however, there are frequently large regions of very small (less than 0.1 mm), iron oxide lined voids. In specimens of finer texture, the voids are often completely filled with the iron concretion.

HEAT TREATMENT:
Heat treatment will produce varying shades of red in the matrix.

SOURCE:
The illustrated specimen was collected from Clear Creek, near Kaolin, Union County, Illinois.


---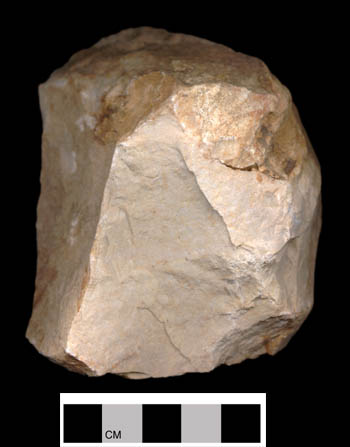 Click on image for full view.
---