Moline Chert
---

© 2003 by the Center For Social Research, Parkland College
---
Use the "back" button on your browser screen to return to the previous page.
---


TEXTURE:
The texture is fine.

LUSTER:
Luster is waxy.

COLOR:
Against a white to gray to dark gray background will be bands and swirls of yet darker values. The hues of the bands can include yellow, brown, pink, or blue tones (Ferguson and Warren 1992: 12).

FOSSILS:
Sponge spicules will be present. They can be seen in the large illustration as blackish rods. In aggregation they constitute the dark bands.

STRUCTURAL CHARACTERISTICS:
There are no distinguishing structural attributes.

HEAT TREATMENT:
Moline Chert was not typically heat treated.

SOURCE:
The illustrated specimen was generously provided by Jacquelin Ferguson and Robert Warren of the Illinois State Museum. It was recovered from the entrance to the Oakwood Golf Course, Henry County, Illinois.


---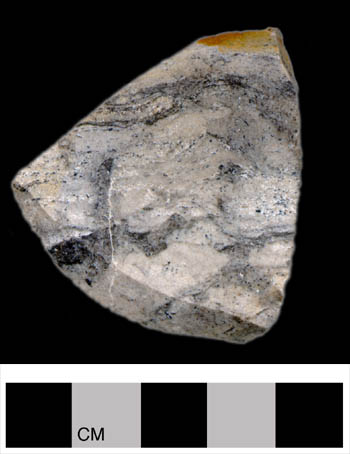 Click on image for full view.
---