Obsidian
---

© 2003 by the Center For Social Research, Parkland College
---
Use the "back" button on your browser screen to return to the previous page.
---


TEXTURE:
The texture in purer expressions is very fine.

LUSTER:
Luster is glassy.

COLOR:
While swirls of brown, red, green, and semi-translucency occur, black is the classic color.

FOSSILS:
There are no fossils in obsidian.

STRUCTURAL CHARACTERISTICS:
Obsidian is a form of volcanic glass that has no crystals or crystalline structure.

HEAT TREATMENT:
Obsidian is not heat treated.

SOURCE:
The illustrated specimen was recovered from the base of the Obsidian Cliff Locality, Yellowstone National Park, Wyoming.


---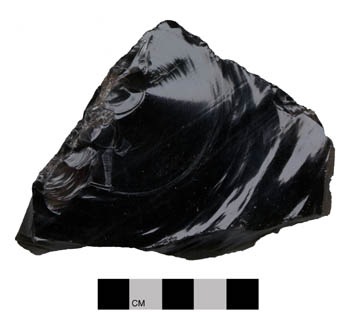 Click on image for full view.
---