Harmilda Chert
---

© 2006 by the Center For Social Research, Parkland College
---
Use the "back" button on your browser screen to return to the previous page.
---


TEXTURE:
The texture is variable. The gray to tan semi-translucent regions will be fine to medium grained. The surrounding opaque gray to white matrix will be medium to coarse grained.

LUSTER:
Luster corresponds to texture with the semi-translucent regions waxy and the opaque regions dull.

COLOR:
Colors range widely in grays and tans in the semi-translucent regions. The opaque regions will be gray to white.

FOSSILS:
The nine specimens in our illustration reveal but few fossils. Sponge spicules can be found in the semi-translucent areas. Crystal filled, crinoid casts can be observed in the opaque matrix.

STRUCTURAL CHARACTERISTICS:
The variation in regions, likely best described by color and transparency is highly distinctive. Also to be noted are the presence of small to large, irregularly shaped vugs, lined with small, poorly defined crystals. Even under ten power magnification the crystals fail to reveal their geometries. Microscopic, iron oxide lined voids also occur.

HEAT TREATMENT:
The three upper most specimens in the illustration are thought to be examples of thermal alteration. We do not know if this was intentional. The colors of Harmilda Chert become reddish or reddish-brown. Luster is but weakly enhanced.

SOURCE:
The illustrated lithic debris was generously provided by Rochelle Lurie of Midwest Archaeological Research Services, Inc.. The material, named for the Holstein cow that leads the Milk Day parade in Harvard, Illinois every summer, formed a significant fraction of the lithic recovery from 11DU370 (DuPage County, Illinois). The extraction locus remains unknown although the strong presence of structurally unusable material suggests a source of close proximity. Because the source is undocumented, we are providing an extremely detailed and therefore large image file (8-bit, uncompressed JPEG providing a magnification of 13X at 14+ meg ) for those of our readers that might assist in the identification of the parent formation. Please feel free to contact me directly with any suggestions.


---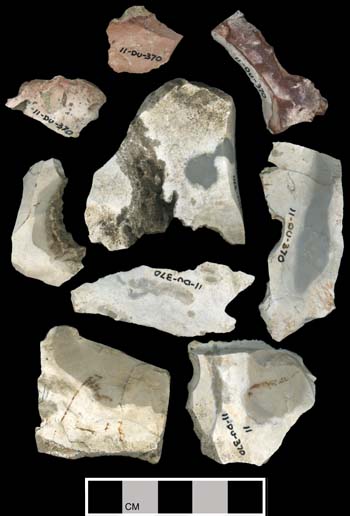 Click on image for full view.
---