Dongola Chert
---

© 2003 by the Center For Social Research, Parkland College
---
Use the "back" button on your browser screen to return to the previous page.
---


Dongola Chert is recovered from the St. Louis Formation, as is Cobden. The difference between it and Cobden is the brown tones of the matrix.

TEXTURE:
The texture is fine.

LUSTER:
Luster tends to be waxy to glassy.

COLOR:
Against a tan to brown background will be a series of concentric bands of yet darker material.

FOSSILS:
Fossils are uncommon.

STRUCTURAL CHARACTERISTICS:
Structural attributes will include: occasional and widely spaced microscopic voids some of which will be lined with iron oxide; the occasional expression of druse; and the occasional oolite.

HEAT TREATMENT:
Dongola Chert is not typically heat treated.

SOURCE:
The illustrated specimens were recovered from erosional features in the north half of Section 35, two miles west of the the village of Cobden, Union County, Illinois.


---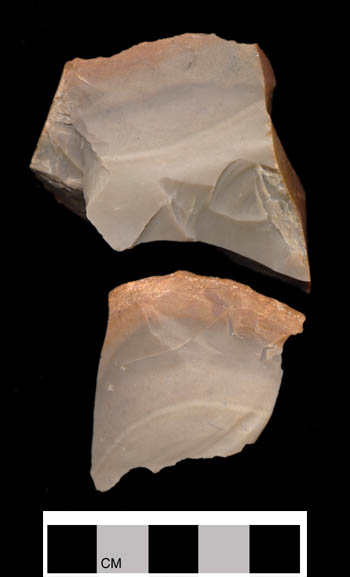 Click on image for full view.
---