St. Louis Chert
---

© 2003 by the Center For Social Research, Parkland College
---
Use the "back" button on your browser screen to return to the previous page.
---


TEXTURE:
The texture is fine.

LUSTER:
Luster tends to be waxy to glassy.

COLOR:
Color is characteristically a very dark gray or blue-gray. Less common are brown hues and lighter values.

FOSSILS:
Fossils are uncommon in the darker colored material, although they may be observed in cortex. Crinoid columnals and bryozoans are abundant in the lighter colored specimens (note item in upper right corner of illustration).

STRUCTURAL CHARACTERISTICS:
Structural attributes will include: occasional and widely spaced microscopic voids some of which will be lined with iron oxide; the occasional expression of druse; and the occasional oolite.

HEAT TREATMENT:
St. Louis Chert is not typically heat treated.

SOURCE:
The illustrated specimens were recovered from erosional features in the north half of Section 35, two miles west of the the village of Cobden, Union County, Illinois.


---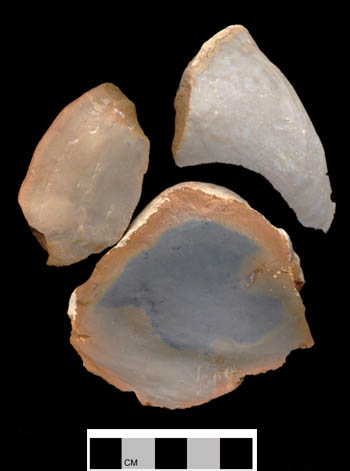 Click on image for full view.
---